John Christoforidis, M.D., Ophthalmologist
26 Years Of Experience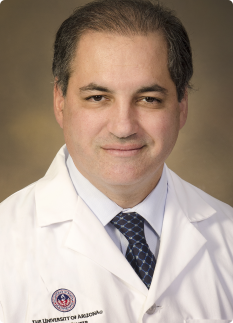 John Christoforidis, M.D., Ophthalmologist
26 Years Of Experience
Dr. Christoforidis joined Retina Specialists of Southern Arizona from the University of Arizona College of Medicine where he has served as Associate Professor and director of vitreoretinal services for the past 5 years. Previously he was Assistant Professor of the Department of Ophthalmology at The Ohio State University College of Medicine in Columbus, OH where he served as Vitreoretinal Fellowship Program Director. Dr. Christoforidis completed clinical and research vitreoretinal fellowships at the Massachusetts Eye & Ear Infirmary, Department of Ophthalmology at Harvard Medical School in Boston and remained there as faculty for 1 year after finishing his fellowships. He completed his residency at University of Maryland in Baltimore, a clinical fellowship at the National Eye Institute at NIH in Bethesda, MD and his medical studies at The Ohio State University College of Medicine.
In addition to his clinical and surgical skills, Dr. Christoforidis has had an active research lab and has served as principal investigator on numerous nationally-based clinical trials. He has authored more than 65 peer-reviewed articles and book chapters and over 100 abstracts. Some of the research topics include the development of a novel method to analyze the pharmacokinetic and anatomic properties of intravitreally placed drugs, examining the effects of anti-VEGF agents on cutaneous wound healing and the application of radiologic instrumentation to detect pathologic conditions in the eye. He has received numerous awards for the results of his research. Dr. Christoforidis has been an invited speaker at various universities, and he has lectured on a regular basis at national and international conferences. He is a member of The Retina Society, the American Society of Retina Specialists, the American Academy of Ophthalmology, ARVO and a candidate member of the prestigious Club Jules Gonin.
In his time away from work, Dr. Chris likes to spend time with his family. He enjoys physical fitness activities, basketball, piano and college football. He is an avid traveler and a diamond-level member of the Travelers' Century Club.
B.A. - The Ohio State University 1985
M.D. - The Ohio State University College of Medicine
Internship - Department of Internal Medicine, Mount Carmel Medical Center, Columbus, OH, United States 1992-93
Research Fellowship - Ophthalmic Genetics and Clinical Services Branch, National Eye Institute, Bethesda, MD, United States 1993-96
Residency - Ophthalmology, Maryland General Hospital, Baltimore, MD, United States 1996-99
Observer - Departments of Ophthalmology and Radiation Oncology, Aristotle University, Thessaloniki, Greece 1999-2000
Research Fellowship - Massachusetts Eye and Ear Infirmary, Retina Department: Dr. Donald J DAmico, Harvard Medical School, Boston, MA, United States 2001-03
Clinical Fellowship - Massachussetts Eye and Ear Infirmary, Retina Department, Harvard Medical School, Boston, MA, United States 2003-05
Intramural Research Training Award. National Institutes of Health. National Eye Institute, Bethesda, MD, United States. Subject: Ophthalmologic Research 1993-96
Chief Resident. Maryland General Hospital. Subject: Ophthalmology 1998-99
Best Doctors in America. U.S. News & World Report. Best Doctors, Boston, MA, United States Subject: Ophthalmology 2007-08
Captain-Annual Vision Walk. Foundation Fighting Blindness 2008
Best Doctors in America. US News & World Report. Best Doctors, Boston, MA, United States 2009-10
Scientific Poster Exhibition Award at 10th EVRS Congress. European Vitreoretinal Society Congress (EVRS). European Vitreoretinal Society Congress, Bremen, Germany. Subject: Ophthalmology Research 2010
Excellence in Teaching Award. Ohio State University College of Medicine. The Ohio State University College of Medicine, Columbus, OH, United States. ($1,000.00) Subject: Ophthalmology Teaching 2010
Active Member. The Retina Society. The Retina Society, Boston, MA, United States. Subject: Retina 2011
Scientific Poster Exhibition Award at 10th EVRS Congress. European Vitreoretinal Society Congress. European Vitreoretinal Society Congress, Bremen, Germany Subject: Ophthalmology Research 2011
Hot Topic Award. Association for Reseach in Vision and Ophthalmology (ARVO). Association for Research in Vision and Ophthalmology, Rockville, MD, United States. Subject: Retinal Research 2011
Knights of Pythias and Sisters Research Award. Knights of Pythias and Sisters Subject: Research in Macular Degeneration. ($10,000.00) 2011
Best Doctors in America. US News & World Report. Best Doctors, Boston, MA, United States 2011-15
Hot Topic Award. Association for Reseach in Vision and Ophthalmology (ARVO). Association for Research in Vision and Ophthalmology, Rockville, MD, United States Subject: Retinal Research 2012
Diamond Status Membership-Travellers Century Club 2014
Best New National Clinical Trial site-Diabetic Retinopathy Clinical Research Network 2016
Selected as Candidate Member-Club Jules Gonin 2016
Macular Degeneration
Diabetic Retinopathy
Macular Edema